Shooting Da Breeze is a collection of random thoughts on a variety of topics, more often than not about the Montreal Canadiens and the NHL, but not always. In this edition, we will touch on NHL Playoffs' related topics such as the Habs' Cinderella run, a break down of the first two games in Vegas, Max Pacioretty, Marc-Andre Fleury, Tyler Toffoli, Cole Caufield, Shea Weber, Carey Price, and more… Please feel free to share and as usual, comments are always welcome.
The Montreal Canadiens have once again managed to do something many "experts" didn't think was possible: winning one game in their series against the Vegas Golden Knights. After their 4-1 loss in Game One in the Sin City, many people claimed that the Habs had come back to reality and didn't stand a chance against the NHL's shiny new toy. Once again, Dominique Ducharme and his men proved that the first two series' success was no fluke, that they deserved to be in the final-four.
With the teams heading back to Montreal for the next two games, the Canadiens have accomplished the mission they had set for themselves: winning a game in Vegas to gain home ice advantage in this best of seven series.
There is no doubt in anyone's mind that one of the key reasons why the Canadiens have made it this far is because their best players are their best performers in those series. And it all starts with goaltending. Carey Price is back in his 2014-2015 Hart Trophy shape and no one around the Habs will be complaining about that. Perhaps the exception will be the few fans and media members who enjoyed using his salary as a reason to put him down. In 13 games in these playoffs, Price has a 2.14 goals against average and a .930 saves percentage.
Price isn't doing that alone however. The Canadiens' top-4 is playing major minutes and they're performing as well as any right now. Shea Weber and Ben Chiarot (25:24 each), Jeff Petry (23:35) and Joel Edmundson (22:13) are logging on major quality minutes in front of Price. They're big, they're bruising, and they're defending well. Much like the Canadiens' goaltender, Weber in particular is having excellent playoffs. He's counted on in all situations and leads the Habs' defense in hits, takeaways and shots on goal. He's also second on the Canadiens' defense in hits while having the fewest giveaways of the top-4.
If you're one of the fans wishing for the Canadiens to ask Price to lift his no-movement clause to be left unprotected at the Seattle Expansion Draft, you're dreaming. If you think for a second that the Habs will leave Weber unprotected, you're sleep-walking. Get that out of your mind immediately, it is NOT going to happen. It's kind of the language criteria for coaches and GMs… cry, kick, scream and have temper tantrums all you want about it, you won't change it. Next question.
It is great to see more and more fans showing support for Jonathan Drouin. It's been reported that he has sent texts to his teammates with words of encouragement. The organisation is staying silent about the reasons for his leave (rightfully so). Unfortunately, many are jumping to conclusions without knowing exactly the situation. It's all speculations at this point. "He played his last game in Montreal", "he has requested a trade", "he has mental issues", are all theories thrown around amongst fans. I say that the best thing is to go on as if it were any type of injuries: he'll be back to the Canadiens when he's better… whatever it is.
He was on pace for a 44-goals season yet, flew under the radar of many Toronto-based TV media outlets. Tyler Toffoli has been more than what he was advertised. A steal on the free agents' market at $4.25 million per season, the former Kings and Canucks' winger leads the Canadiens with 12 points in 13 playoffs' games so far. He's currently on an eight-game point streak. If you haven't read Toffoli's article in the Players' Tribune "I was meant to be a Hab" yet, you're missing out.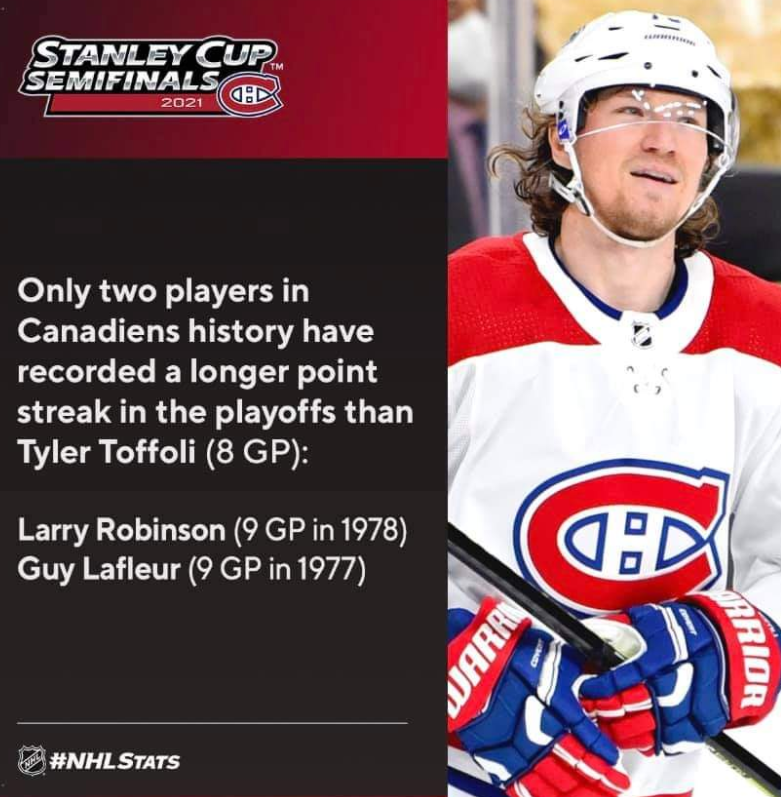 What hasn't been said already about Cole Caufield? Yes, there's a lot of hype around him. But so far, he has been a very positive addition to the Canadiens. Leafs' head coach Sheldon Keefe admitted that the series turned around when the diminutive winger was added to the Habs' line-up. High praise. He scored his first NHL Playoffs' goal on Monday in Vegas and has six points in 11 games so far. His energy on and off the ice is infatuating, as is his smile. He will be good for a long time.
At the other end of the ice, Max Pacioretty is not making any friends in Montreal, even from those who supported him during his stay with the Habs. First, he dangerously tripped Corey Perry from behind at the faceoffs' circle. When Perry confronted him, Patches chickened out as he's always done. Countless times in this series, he has refused to go in the corner against the Habs' top-4 defense, knowing he would get hit. Although he's playing over 18 minutes again, he has only registered three shots… William Carrier and Zach Whitecloud have more than that! And that was in Vegas, with favourable match up, heading to Montreal now, where the Canadiens will have the last change.
Speaking of Corey Perry, the Worm is an amazing playoffs' performer, isn't he? He has this knack of getting under his opponents' skin. The antagonizing side of Brendan Gallagher, but on steroids. I love how he slows the play down and thinks the game. His line with Eric Staal and Joel Armia is one of the Canadiens' best every night. Don't be surprised if he returns to Montreal next season, like Jason Spezza did with the Toronto Maple Leafs. The Habs' kids have much to learn from a guy like him.
There's been so much hype about Marc-Andre Fleury that I couldn't wait to see what it was all about. As a former goaltender, I tend to love analyzing goalies and their play. I tell you want… I was never impressed by Fleury and the first two games of this series make me think that he's simply very much overrated. The guy is more generous giving up greasy rebounds than Santa Claus is at handing out presents at Christmas. He's spectacular because his technique is deficient, he's often out of position, can't control rebounds and has to make up for it on second and third chances through athleticism.
I wish I could get my hands on a stat… how many times has Alex Pietrangelo been hit by the Canadiens in the first two games. It seems like a lot. The Habs game plan seems to be to hit him any chance they get and they're successful at it. They're hitting often and they're hitting him hard. In a seven game series, it will take its toll on the all-star defenseman. But unlike Pacioretty, Pietrangelo isn't backing down from physical contact. He's a gamer. The physical punishment all started in game one with Alexander Romanov…
The Canadiens' defense is banged up. Weber had a sore left thumb and has now been slashed on the right hand by Ryan Reaves. Since then, the Canadiens' captain has received a couple of shots on that hand and he seems to be in pain at times. We know about Petry's hand too and in game two, Joel Edmundson was slow getting up after being crosschecked into the boards by William Karlsson. None of those infractions were called by the referees. When even former NHL referee Kerry Fraser can't understand why Karlsson's action wasn't penalized…
Speaking of refereeing, can it be more obvious? No Canadian team has won the Cup since Gary Bettman has been named Commissioner of the NHL back in the summer of 1993. Ironically, that was after the Habs won their last Stanley Cup. Bettman's goal since then has been focussed on growing the sport in the United States. Canada has since lost Quebec and Winnipeg to US markets, with the Jets finally coming back. He has held Arizona on life support for years now. Had he done that with Quebec, they'd still be there but… Quebec is in Canada. I know that it sounds like a conspiracy theory but proof is in the pudding, as they say. The one-sided officiating and decisions by the NHL Player Safety certainly looks like it's something planned.
The Canadiens have played two good periods of hockey in two games. It was the first period in each game. Even by doing so, they're tied at one in this series. They will need a better and more constant effort, particulary offensively if they hope to win the next two games at home, a place where they've been struggling all year. Here are the keys to beat Vegas, in my opinion:
Discipline, discipline, discipline. Bettman wants his new shiny tow to win!
Fleury gives greasy rebounds. Get his his kitchen for 60 minutes, not just one period, and he won't take the heat.
Keep hitting Pietrangelo, and do the same with Mark Stone and Pacioretty. The last two don't like it at all.
Go Habs Go!
Coach's Hat Trick: Two Types of Defense Philosophies