Some soar high into the sky, get into the limelight and get the recognition that they deserve. Others, well… not so much. Yet, they do just as good of a job but it's not as flashy, or their names aren't as recognized to be worthy of mention, of the recognition that they deserve. The Montreal Canadiens have a forward line flying under the radar at the eyes of both Media and fans alike, other than the ones following the team day in, day out, that is.
The line of Phillip Danault centering Brendan Gallagher and Tomas Tatar proved once again last night that they are an elite line in this league. They were given the task of facing and keeping in check what's arguably the NHL's best line of Patrice Bergeron, Brad Marchand and David Pastrnak, a job that few other lines in the league have been able to do successfully over the past few seasons and certainly not this year. Not only did they keep them in check, the Canadiens' top line dominated the Bruins' dynamic trio all throughout the game. They we in total control of the game when on the ice and that's not an easy task. But rest assured that Bruins' head coach Bruce Cassidy and the Bergeron line took notice. At some point, Cassidy even decided to move Pastrnak to David Krejci's line in hope to mix things up.
When all was said and done, Bergeron and Pastrnak finished the night with one point each (on the powerplay) but they and fellow linemate Marchand all finished the game with a minus -2 rating. In the meantime, Tatar (2 shots) had a goal and an assist, Gallagher (4 shots) an assist and Danault (3 shots) all retreated in the dressing room at plus -1 after 60 minutes.
In a league where points seem to be the determining factor to get any recognition, a top line where all three have fewer than a point per game is not important enough. After all, even the Norris Trophy (best overall defenseman) and the Selke Trophy (best defensive forward) are now awarded, more often than not, to offensive-minded player who happen to be good defensively, although not the best. At some point, the NHL will have to start noticing the Canadiens' trio as one of the top ones in the league.
Game Notes
Claude Julien, who was coaching his 1,200 NHL game, had some coaching to do last night and he outcoached his opponent. He did a master job at matching up the top lines but also, prior to the game, he decided to place often underrated defenseman Ben Chiarot with team captain Shea Weber and match that pair against the Bergeron line. Brad Marchand was invisible, often tangled up with the Canadiens two rugged defenseman. He did not have fun last night and it showed. Result? Julien earned his 635th career win, placing him 14th all-time in that category.
Fans at the Bell Centre game Zdeno Chara an ovation when they announced that he was playing his 1,500 game last night. It seems like fans have a short memory as many wanted him to have criminal charges for the incident where he drove Max Pacioretty's head into a stanchion a few years ago.
Not only did Victor Mete score his first NHL goal earlier this season, he added two more last night against the Bruins. Fun fact: Mete is tied with P.K. Subban in points this season with five, and his three goals is one more than the controversial Devils' defenseman. Weber you ask (can't talk Subban without saying this name)? The aging defenseman also only has two goals, but he picked up his 10th point of the season last night. Mete made this guy sweat last night…
Was it or was it not offside? When Charlie Coyle scored to put the Bruins ahead, Julien and his video coaches decided to challenge the goal saying that it was offside. After much deliberation and video reviews, it was deemed that Coyle was offside.
The debate today is to know if Coyle had "possession" of the puck at zone entry. Some say he did, I say he did not and the linemen got this one right on the review. You see, Coyle did not have possession, he was in the process of gaining possession. Having possession is being in full control which he clearly doesn't… yet at the time he crossed the line. Was it voluntary? Absolutely. But it doesn't constitute control.
So far this season, the Canadiens are 7-1-2 against teams with a 500 or better record. What's mind boggling is that they're 1-4-0 against teams with below 500 record. The good news is that in the playoffs, every team is over the 500 mark but in order to get into the playoffs, the Habs will have to start beating those lower tier teams too.
While the defense needs some work – and by that I mean defensive play, not just the defensemen), it's the offensive production that surprises everyone. So far in 15 games, the Canadiens have scored 3.67 goals per game, good for fourth in the NHL, trailing only the Nashville Predators (4.00), Washington Capitals (3.94) and… Boston Bruins (3.73).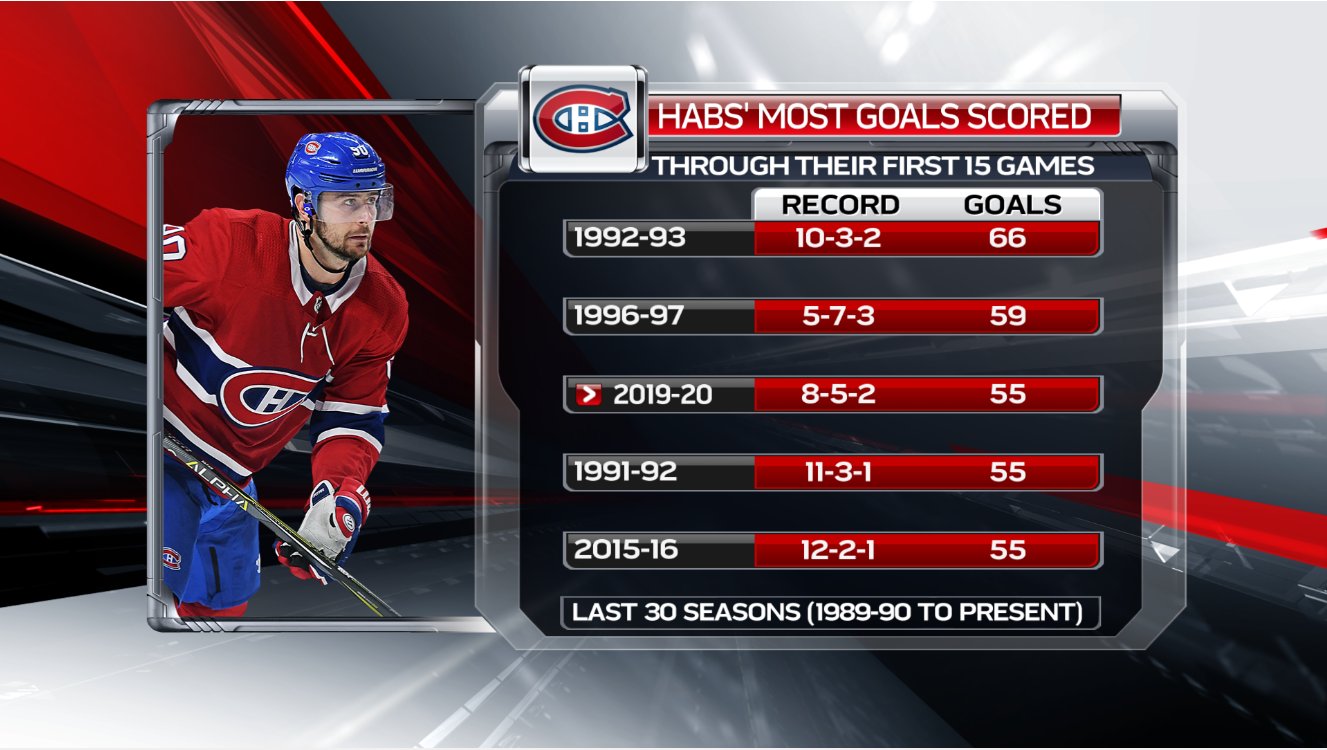 The Canadiens' next game is Thursday as they visit the Philadelphia Flyers (7-5-2). Game time: 4:00 pm. Go Habs Go!